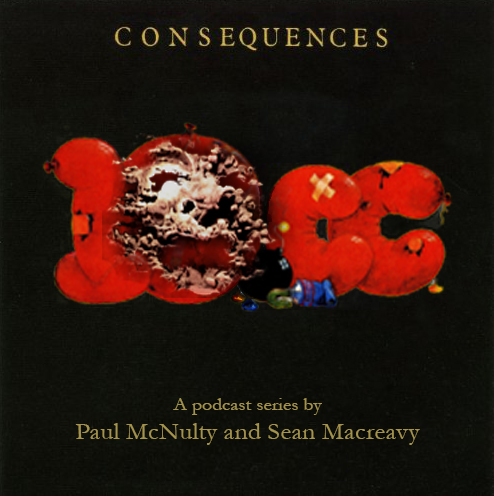 Welcome to the fourth and final part of Paul and Sean's conversation with Kevin Godley in Dublin. We guarantee that most or all of what you hear in this episode will be as new to your ears as it was to ours!
Kevin talks in depth about the conception, writing and recording of his imminent new album, Muscle Memory. His explanation of the lyrical inspiration for these new songs is blisteringly honest and edgy, and perhaps this is the reason why this is Sean's favourite part of the whole interview with Kevin.  We also discuss some of his lesser known but ground-breaking 1990s projects, such as Ark Trust's Mother Earth and One World One Voice.  Finally, we hear about some much more recent music videos and some fascinating insights into his current and future creative projects, including a feature film about the last days of Orson Welles' life.
Yes, we knew very little about this stuff either!  You'll learn a lot, as we did.  
In our next episode, we'll be travelling back to Stockport for an incredibly interesting chat with Strawberry's founder and recording engineer Pete Tattersall, who regales us with a huge number of memories and anecdotes from his work with Eric and the boys.
Please don't forget that we have a veritable treasure trove of rare 10cc and G&C audio, reviews and documentation available for our paid subscribers.  A single annual payment of $25 will unlock all of this content, as well as occasional exclusive podcasts, such as a film of our visit to Strawberry Studios with Peter Wadsworth.  Thanks in advance!  Here's the link, and a list of our bonus content so far:
https://www.podbean.com/premium-signup/qiegf-220cbb/The+Consequences+10cc+podcast*
* video files of Kevin Godley film projects, including Son of Man, Katie Melua's documentary on the making of 9000 Bicycles, Ark Trust's 'Mother Earth' and the 'One World One Voice' project.
* an amazing 'shopping list' handwritten by John Lennon, with a 10cc-related item that will make your jaws drop!
* radio spots from BBC Radio 1's 'Personal Call' interview and phone in with Godley and Creme; BBC 6 Music's fantastic 'Record Producers' episode on 10cc; and Justin Hayward's 'Well Above Average' episode on 10cc
* full audio from the complete King Biscuit Hour 1975 concert and an early 1976 gig from the How Dare You tour
* fascinating music press reviews and interviews of the L album
* three high-quality mixes of the notorious 'Voodoo Boogie' sessions for People in Love
* Harvey Lisberg's copies of hundreds of Strawberry Studios tape and track sheets, early Godley and Creme demos, Strawberry rarities and more!